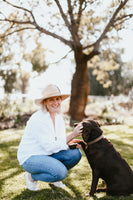 WELCOME
Claire Austin started the Gin Gin Garden Club in 2019 - a garden community based near Trangie, NSW. 
She started by profiling gardens around the Western Plains, something she would like to start doing again. Claire shares her learnings and personal insights with her gardening community on Instagram. She is also a regular contributior to Graziher magazine.
Choose from a range of wares for the garden, picnics & kitchen - curated items to add some beauty to ordinary everyday tasks.
Thank you for stopping by here! Be sure to get in touch if we can help. Happy gardening!
SHOP | USEFUL & LOVELY PIECES FOR THE GARDEN & HOME
kind words
My Mum loved her cooler bag! We threw some drinks and cheese in there pretty quickly before a round of Christmas paddock golf!

Emily
I've just recieved my order! I've spent the arvo on the Japanese weeding hoe and it's amazing! Cannot get over how efficient. Beautiful quality.

Jane
I'm getting alot out of your monthly gardening guides on Instagram - so helpful! Thank you! I'm getting into the mulching this week.

Grace