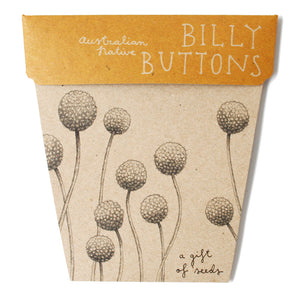 Brighten someone's life with bubbly, bouncy Billy Buttons, an easily grown Australian native flower ball that looks great in the garden and will continue to please as a dried flower.
To sow, scatter seeds in a sunny position and cover with a thin layer of soil. Ensure that the soil stays moist. Beat the rhythm of life with nature's own golden drumstick.
Featuring the beautiful illustrations by Daniella Germain, this is the perfect gift for any occasion.
-Made in Australia
-100% recycled paper
-Includes an illustrative recycled card plant label to mark where your seeds are planted
Variety: Pycnosorus globosus. Billy Button's are also known as drumsticks or craspedia.