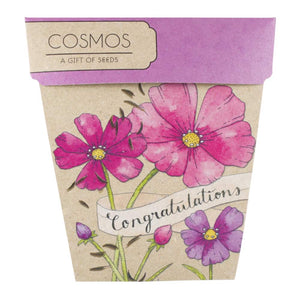 This greeting card includes a market of Cosmos flower seeds. Cosmos are beautiful big bright daisy like flowers which are very easy to grow. Perfect for wishing anyone 'congratulations' whatever the occasion – weddings, new babies, graduations, engagements. Commemorate the special event be it big or small with a gift that grows.
To sow, simply place the seeds at a depth of 5mm, in a sunny position during spring or summer. These flowers will provide a  bright pop to your garden, and are perfect for companion planting.
-Made in Australia
-100% recycled paper
-Includes an illustrative plant label to mark where your seeds are planted
-Comes with a recycled kraft envelope for mailing
Variety: Cosmos Bipinnatus.