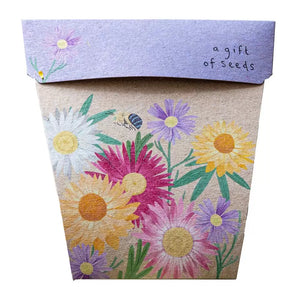 Containing a native Australian mix of Swan River daisy, everlasting daisy and strawflower seeds, this Gift of Seeds will produce beautiful blooms to celebrate any occasion.
Inspired by the versatility and simplicity of a blank card, this Gift of Seeds which is part of the Bloom Collection, doesn't have a title or honour an occasion making it easier to personalise to suit your gifting needs.
Featuring original illustrations by Melbourne artist Daniella Germain, this Gift of Seeds is designed and made in Australia, printed on 100% post-consumer waste recycled card and plastic free.
Our products are designed to promote a connection with nature and enjoy simple pleasures.
Features:
• Greeting card and gift combined
• Recycled envelope, seeds and plant label included
• Great gift for posting (requires two postage stamps)
• Australian made
• Plastic free
• 100% recycled and recyclable
Seed varieties: Brachyscome iberidifolia, Rhodanthe chlorocephala subsp. Rosea, and Xerochrysum bracteatum.