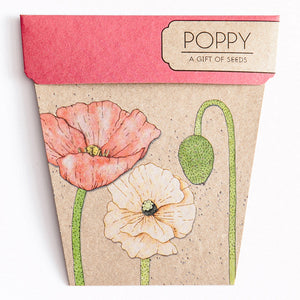 If you've ever stumbled upon a bed of Poppies in flower you will know how enchanting they are. Their bright pink & red delicate petals and serated green leaves appear as if out of a fairytale.
A sweet and thoughtful gift which keeps on giving, this greeting card includes poppy seeds, a plant label and sowing instructions in one beautifully illustrated package.
Best sown in autumn and winter, scatter seeds in full sun and cover with only a very thin layer of soil.
-Made in Australia
-100% recycled paper
-Includes an illustrative, non-toxic plant label to mark where your seeds are planted
-Comes with a recycled kraft envelope for mailing
Variety: Shirley, Papaver rhoeas  Click here for more information on Poppies
Please note, due to WA quarantine restrictions, we cannot send more than 10 packets of Poppy in any one shipment to Western Australia.