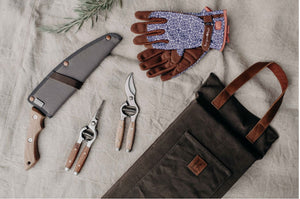 Winter in the garden is time for getting ready for Spring flowers! We've put together a collection of our most used garden tools when it comes to cutting back shrubs, flowers, vines and little branches. Pack includes; 
2 sets of Secateurs. Including a pair of our top selling wooden handled secateurs and a pair of flower snips. A best friend in the garden, not just for pruning, but cutting flowers and deadheading as well as general use throughout the year.
Gloves. Ideal for getting things done in the garden, especially when pruning roses and cutting thorny bushes.
Kneeler. Offers comfort for knees when in the garden or if you are unfortunate to kneel on a thorn or stone!
Saw. For the more hard core pruning, this saw is ideal for cutting small branches and deadwood.
This pack is valued at $330 and is very limited.